Martin J Johnson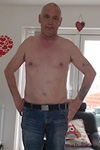 After
Before
My husband, Martin John Johnson would like to relay his thanks to Prof Senapati. Before the surgery he was very depressed and had been put on anti depressants by our GP. My husband had a very large abdominal area and was unable to tie his shoes, walk for long distances or exercise. He had three heart attacks and suffered from atrial fibrillation. His waist was 42" and he didn't like getting dressed up to go to any social events as he felt embarrassed. People used to think that he had a 'beer belly' and the fact is that he doesn't drink alcohol or over indulge in food or sugary drinks. He had tried various diets but with no good results.
Martin Johnson's testimony
We researched gastric band surgery and surgeons. Prof. Senapati was the person that we chose after much research. Right from our first point of contact to post surgery the experience was exceptional. We would have no problem in recommending Prof Senapati to anyone needing his help. In fact people that have seen my husband now, six months post surgery all comment on how well he looks. Two of his acquaintances have asked for the details of where he had his surgery. I will pass these on without hesitation.
He has lost two stones, is now in a 36 waist trousers and is able to go walking about 5 miles a day. He loves walking and has missed it. He is feeling much better in himself and brighter in mood. We have bought a Motorhome and are planning to travel Europe later this month. Both of our lives have been enhanced by this procedure and we can't thank you both enough.
Many thanks