Laparoscopic Gastric Bypass
This is a combined procedure of restriction and malabsorption where a small stomach pouch is created to restrict food intake. Next, a Y-shaped section of the small intestine is attached to the pouch to allow food to bypass the lower stomach, the duodenum (the first segment of the small intestine), and the first portion of the jejunum (the second segment of the small intestine). This bypass reduces the absorption of nutrients and thereby reduces the calorie intake.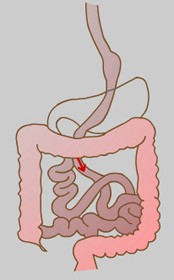 Advantages:
Almost always performed laparoscopically, leading to quick recovery and return to work
Majority of the patients stay in the hospital for a day or two
Majority of the comorbidity is either cured or improved significantly
Excess weight loss of 70-80% in 1-2 years' time
Improvement in quality of life
Disadvantages:
Permanent procedure
Minimal morbidity
Need to take multivitamins and calcium

Click here for more information.
---
You will need the Adobe Reader to view and print these documents.