Bariatric Surgery made me run when I was not even able to walk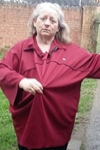 Alison Anthony
After
This photo shows
one of my tops from pre-op
and one that I'm wearing now.

Taken today just for this -
The Glossy body-shaming mag shot!

Sorry about the face!
I was in my slippers and the ground
was wet and started soaking through!

Me at work, taken in December 2016.
I'd just finished making the model
of our new Artificial Limb
Service Mascot, T-Wrex.

Me, and my first attempt of a selfie! Taken in December 2016.
Before
Me holding my new Great
Nephew back in 2013

Taken 2011, the glasses
were props for a play
our son was in!

On Holiday in 2011 with
our son and my husband.
I'm a Bariatric Surgery Patient. I had a mini Gastric Bypass performed back in July 2016 and can honestly say – It's the best thing I could have done for my health since I gave up smoking back in 2000!
I'm not going to pretend it was an easy road to take, because it wasn't. Firstly, it took almost 12 years (or so) of trying to get the funding from the Welsh Heath Commission; during which I was attending clinics in Liverpool (I live in Wrexham, North Wales) every few months to visit the Doctor, Dieticians and Physiotherapists who were all part of the weight loss management team there. I struggled daily with my eating – always feeling hungry, or just craving something to eat, even when I knew I could not possibly actually be hungry as I'd only just had a meal (which was usually way too big portion size wise!).
I started to keep a FOOD DIARY – I'm sure most of you on this journey have encountered this idea? It's very simple really write down everything you eat or drink throughout the day, and DON'T cheat yourself by not entering things! You'd get very annoyed if someone else blatantly lied to your face every single day, so why do it to yourself? I was shocked when I looked at the page of my first day – I had never really thought about my food intake that much before, but seeing it all there in black and white was a shock! Far too much food and far too little water. Must Try Harder! Second day – a little better, I was thinking about my food now, and what I wanted from this.
My Husband always said "I love you no matter what size you are" There it was, the Freedom to eat what I wanted! However, once I'd made up my mind to start this journey that changed – it now included an extra bit on the end "But if this is something you really want to do – I'll support you all the way" That meant so much to me, the support of family and friends will to everyone else beginning on this path. I have told everyone that I've had the bariatric surgery, it's not a secret – I'm proud that I got the help I needed and that I am willing to do the work I can to make it a success.
I cried the day my funding was approved. I had to meet a whole new team at Salford Royal Hospital in Manchester. Totally thrown for a loop! Thrilled that I was finally getting my surgery . The whole team at Salford Royal were wonderful.
So, before surgery at my heaviest I weighed 146.4Kg – that was back in June 2015. When I started on the Liver Reduction Diet 4 weeks before the surgery I weighed 142.5Kgs and I couldn't walk up the stairs without having to pull myself up using the hand-rail, and could only do that one step at a time. Getting dressed/undressed was so difficult, just putting on socks couldn't be done unless I could sit on the bed and bring one leg up sideways onto the bed bending at the knee so I could reach my foot. I would be so exhausted by I'd got home from work I would have no energy (or inclination) to do anything but sit in a chair till crawling off to bed! I struggled to do the grocery shopping, walking up and down the aisles I would physically lean onto the trolley like it was a stroller! I hated clothes shopping, and the exorbitant price I had to pay for basic clothing to fit me; at a size 32- 36 the choice of clothes shops is quite limited and don't they know it!
As I write this, it's now 8 months' post op – I park the farthest point from the supermarket and walk the full length of the car park, walk quite happily around the supermarket shopping, and then all the way back across the car park to my car, pack and load up the shopping at the car, walk half way back across the car park to return the trolley to a trolley park before returning to the car and driving home with the shopping! I get out of bed earlier so I can take our dog for a walk EVERY morning before having toast for breakfast and going to work (or starting housework if it's the weekend!), it's only a 20-minute walk, but I never used to do it! I can RUN up the stairs, yes RUN – Never thought I'd be saying that!! I have a Cross-Trainer and some light weights in our spare room, and when I feel able (I have Fibromyalgia, which does affect my abilities) I get in there and do 10 minutes on the X-trainer (not all in one go – I have to stop and let my heart-rate come down, and catch my breath every 2 minutes or so, but the timer stops when I do so I know I make the 10 minutes!), then I do some arm exercises with the weights, and some stretching exercises followed by walking around for 10-15 minutes to cool down, in total it normally takes me an hour or so, and it true what they say – after I've done it – I do FEEL GOOD! Not only because of the endorphins that are pumping around my body from the exercise, but because of the psychological point that it's something I could NEVER have done before the surgery!
I still don't like clothes shopping, but at least it's not such an expedition now I'm down to a size 26 -24 and am finding more mainstream shops carry items to those sizes.
I was booked into the hospital the morning of the operation and had blood samples taken for tests. Then a porter showed us to a single patient room where we met with the various members of the team – Anaesthetist, Physiotherapists, Nurses, and of course my Surgeon himself, Prof Siba Senapati and he was lovely. My husband and son came with me and they were allowed to stay with me right up until the team, were ready to start their work. Prof Senapati explained me the procedure clearly again with diligence. My surgery went very well and I recovered with minimal discomfort. Expected more pain and discomfort. Started drinking fluid and mobilizing pretty quickly and discharged home the day after my bypass. The care and professionalism I received is wonderful from Prof Senapati.
As I mentioned earlier, I have toast (most days) for my breakfast, 2 rounds with something on it like low-fat pate, or scrambled egg, or baked beans and that keeps me going to my lunch break at 1 o'clock (I do some times have a piece of fruit at 10:30 – 11). My lunch has changed from 4 rounds of bread making up 4 sandwiches, to 2 round making just 2 (I may or may not eat both!) and some more fruit. Then at home we'll have our evening meal sometime between 6 and 7pm, my plate is a lot smaller than it used to be. If I'm not aching too much, I will take our dog for her evening walk around 8pm, and this takes 45 mins to an hour. I sometimes get a little hungry in the evening and will have another piece of fruit or a small bowl of cereal. I drink 3 to 4 mugs of black coffee with no sugar (did pre-op anyway) a day, but I also drink between 1 and 2 pints of skimmed milk a day too which I never did before. I do occasionally have something sweet like a biscuit or pudding, but I am constantly aware of the accounts of 'Sugar-dumping' symptoms given by other post-op patients and quite careful to not suffer the same fate!
Oh, something else I've discovered about my body since losing this much weight! I have a bump of bone on the bottom of my sternum that I couldn't feel before the weight loss, ha ha ha!
I don't have many photos of me pre-op, oddly enough growing up as obese, I was never fond of being photographed! But I have managed to find some for you to see. I have also kept some of my pre-op clothes and will do one of those 'glossy body-shaming magazine' shots of me wearing some pulling them away from my body! :)
Well, I think that's enough chatter from me,
Good luck to any one following this path. You will only get out of it the effort you are willing to put in, the surgery will not solve all your weight problems – it can only help you along the way. . . You must change many things in your life for this to work; and that is hard to do – but Oh, my! It's so worth it.