Gastric Bypass cured my Diabetes and I got my dream job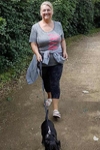 Wendy Minshull
After
Before
My name is Wendy Minshull my weight loss journey started on 6/1/16 where I was placed on the 3 tier system for bariatric surgery, It was recommended I lost some weight and attempted to do exercise for mobility purposes when my operation date came I was surprised to learn with the help of Salford Royal dieticians I had lost 3 stone. My operation was on the 25/2/2017 it was at the Alexandra Hospital which Salford royal hospital use" Wow" what a lovely place Prof Senapati and his team were great putting myself at ease from the first point of contact.
The operation was over smoothly and with out no problems I was placed in to an intensive care bed for further checks as I was an insulin dependant type 2 diabetic very strange from the point of the operation I no longer require any injections or medication for diabetes. The staff were great and attended to myself for the whole 24hrs I was in the hospital, I was released from hospital the next day with a plan in hand.
Here is where my life begins, after the initial recovery period I was back in the gym I also swim a mile or 64 length in the swimming pool at my local leisure centre every day, What a difference this operation has made I have gradually over 6 months lost a total of 8 stone 7lb I do still have some more weight to lose however I want to take it slowly so as not to have too much loose skin. I love my life now and take each day with two hands and run I have just got my dream job after being out of work for 7 years, I no longer feel a freak or a second class person for being over weight ,I do not need to take all the tablets for conditions such as high blood pressure/ fatted liver disease to name but a few ailments, My weight to day is 12stone 1lb I feel great and would recommend Prof Senapati and his team they have done a fantastic job for me.