My anxiety & depression cured. I am loving myself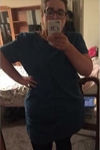 Chelsea Smith
My name is Chelsea Smith. I would just like to say I had my operation on 25th February 2017 and my whole experience was amazing from Prof Senapati and his team they could not do enough for me.
The standard of care was outstanding and also the aftercare also. My scars are minimal and my recovery was speedy too. There hospitality was like no other that I have ever received. Siba was very caring and such a lovely gentleman and made me feel at ease especially as I was petrified and had a meltdown the previous day and on the morning of the surgery.
When I started my journey I was 23stone 7lb and I am now at my lowest weight I have been in over 10 years weighing 16st 2lb I have gone down from a size 28 to a size 16/18 and have lost 7 stone 4lb so far.
It has been the best decision I have ever made and I could kick myself for not doing it sooner as I have suffered from Under Active Thyroid and Polycystic Ovaries, IBS for over 15 years and no matter what medication I was taking it was not assisting with either of my conditions my weight was constantly creeping up no matter how many weight loss groups I attended and fad diets I did it was always a struggle with weight gain being a main symptom to both of these diseases. Since having the surgery many more of my symptoms have disappeared like my anxiety, depression, weight gain, fatigue, joint ache amongst many more symptoms.
I have come off my Metformin and Levothyroxine which I have taken for many years.
But most of all I couldn't be happier as I feel like I have found me again after being lost for long time and slowly losing all confidence and full to the brim of anxiety and convinced I was too fat to be or do anything the list is endless.. but now I am back to being me again starting to love me and my skin I'm in.
Found out I love the gym, I love healthy eating, I love cleaning and most of all I love not being out of breath and being more active with my two beautiful stepsons and niece and nephew.
I enjoy that I can still go out and eat and drink but its all in moderation and smaller portions, I enjoy that I don't need an extension seatbelt on the aeroplane, that car seatbelts fit without a struggle also I can go into any clothes shop and buy an outfit rather than order off plus size specialist off line that charge over the odds for clothes.
I still have a long way to go until my BMI is classed as not obese however each day its creeping lower and lower from 58.3 to 40.1 and I have lost 50% body fat.