The skill of Prof Senapati is both life changing and in my view life saving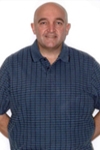 Martyn Ince
After & Before
My name is Martyn Ince, I am a patient under the care of Prof Siba Senapati at The Alexandra Hospital Cheadle. Here is a short testimonial with regard to Prof Senapati and his team.
I first met Prof Senapati towards the end of 2008; I had a consultation with him at Rochdale Infirmary after being referred by my GP. Prior to meeting Prof Senapati I had been under the care of my GP for about two years with regard to my weight. I had been on a number of diets, lotions and potions, some with more success than others but overall any weight I lost, I eventually gained back and a bit extra for good luck. Nothing new in this part of my story to date, anybody with a weight problem will agree that I was your typical yoyo dieter!
After seeing Prof Senapati, he confirmed that I was a good candidate for a gastric bypass which he explained in my case would help me to lose the substantial amount of weight that I needed to lose I had previously done some research into bypass surgery, and was aware of the pros and cons of surgery. It's time to be open and honest with yourself from this point on, my current weight was 27 stone at this point, and to say my standard of live was poor would be true, I consider myself to have a loving partner and there is nothing that she wouldn't do for me. But that was the trouble, as my weight gained Maria was having to do more and more, and to say that I was beginning to rely on here too much is an understatement. Personally I was managing to cope to a certain extent, I have struggled walking for years due to a serious accident in 1994, but this was different. As the weight increased the distance I could walk decreased, personal hygiene became difficult, but as with most things you learn to adapt, you would be surprised how many ways there are to wipe your backside when you put your mind to it. Sorry for the toilet humor but I laugh at some of the things I did to maintain my personal hygiene.
I consider myself one of the lucky ones, because I managed to get funding for my surgery through the NHS, this was a quite stressful period and at times I felt I was begging for help from the powers that be. None the less, whilst eating a full English breakfast at our local caf I got a phone call from my GP confirming that I had been accepted for surgery. Some irony in the timing of that fateful phone call I think!
I was admitted to The Alexandra Hospital Thursday 12/2/09 at 7 am. As you would expect all the staff were very polite and I was treated just like any other patient with an illness, and it's worth remembering that being clinically obese is indeed an illness. Pre op tests were carried out and Prof senapati came to see his patients for the day to which I was one of three, who says surgeons don't earn their money? I was collected by a porter who walked me down to theatre at about dinnertime, and was prepped for surgery. At this point I should mention I have had surgery a number of times in the past without any fear dying in theatre. But to rationalize this surgery I had resigned myself to the fact that if I didn't have this Gastric By Pass I was going to die anyway.
All this excess weight I was carrying was slowly killing me and I was now in the skilful hands of Prof Senapati who was going to give me a fresh start in life. The operation was quite uneventful, I returned to my private suite conscious if a bit groggy but pain free and ready for 40 winks. Prof Senapati visited his patients for the day at about 7 pm and confirmed all had gone well with no problems. After care from the staff at the hospital was excellent ad they couldn't do enough for you. Any questions you asked were answered clearly and any treatments were explained beforehand. Friday teatime another visit from Prof Senapti, all was well I had done some walking around and climbed a flight of stairs, drank fluid, passed fluid, sorry more toilet humor. I was told I could go home that same evening, that was only 30 hours after surgery, thank god for key hole surgery.
To date as I write this I am at 9 1/2 months post op and my total weight loss so far is around 10 stone. I am currently having checkups every three months with both Prof Senapati and dietician Christine Saint whose advice and knowledge have been a great help. I can't thank Prof Senapati and his team for what they have done for me. You will hear all the clich one liners from people who have had bypass surgery, like, I fell born again, I fell 20 years younger, but they are all true. The skill of Prof senapati is both life changing and in my view life saving. As I said before I feel I was living a slow death before this operation, but now I am optimistic about my future. I would recommend Prof Senapati and Gastric By Pass surgery to anybody who is struggling with their weight and needs to, and more importantly wants to do something about it. For anybody who wants to contact me fell free at martynince@yahoo.co.uk