My Sleep Apnoea gone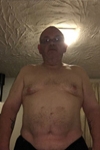 Aaran Davey
After
Before
Well before surgery I was 23.5 stone and quality of life was usually work and sat at home could not walk up the stairs without being out of breath and having sleep Apnoea.
Since surgery I have to date lost 8stone and I am down to 15.5 my sleep apnoea has gone and I am going to the gym 3 time's a week with a swim on the weekends life is good.
I can not commend Prof Siba Senapati enough for the surgery he did on me. I had zero pain even on the day of the operation, scars healed nicely and the care I revived from him and his team was second to none.