Wendy Brown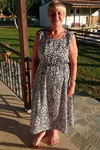 I have had a weight problem all my life.
My parents were the old fashioned type, you ate what was put in front of you and if you didnt eat your dinner or tea, you didnt get a pudding and so the weight problem began.
After being put on the first diet by the hospital at aged just 10; I began the yo yo dieting that would determine my life. I lost weight and gained it again plus even more.
At my first wedding, I weighed 17.5 stone but as I enjoyed cooking and eating and being content, my weight went up to 19.5 stone. I never let it bother me to the people around me. I was always the life and soul of the party; always game for a laugh. But inside, I felt fat and ugly but my being funny and outgoing, and making fun of myself, that was my comfort blanket.
After separating from my first husband (my choice); my weight actually remained the same. However, after giving myself a talking to and being single again at the age of 35; I decided to join Weight Watchers and lost a fantastic 9.5 stone; even going on to becoming a Weight Watchers leader; helping other people with a weight problem fight their demons.
I kept the weight off for 3.5 years but after giving up my Weight Watcher's leader position, the weight gradually crept on again.
Eventually, I met Neal (who I married 3 years ago). We hit it off so well but again the contentment stepped it, and my weight escalated yet again. I then joined Slimming World and lost a lot of weight but I found myself spiralling into old habit, eventually giving up as my head just could not get back into the right place and I steadily gained the weight yet again.
I had always thought about gastric surgery but not having the money to take the plunge; I kept it only in my mind but on the quiet; I did a lot of research into all types of gastric surgery. I admit, the idea of a sleeve; bypass or balloon worried me as I felt there would be no going back if the surgery didnt suit me but regularly continued with my research.
Eventually, I had the guts to sit down with Neal and explain just how unhappy I was with myself. I was tired of feeling ugly and fat; never finding clothes to fit me; laughing at myself before anyone else could but the main one; being uncomfortable with Neal seeing me without clothes on … not good for someone who at that time, had only been married a year. Neal was not happy about surgery but when I explained that I was looking at a gastric band and explaining that I would need to learn to listen to my body telling me to stop eating and also there was an option of a reversal; Neal saw my side and offered support.
After contacting Mr Senapati I went along to meet him at The Alexander Hospital in October 2017 taking along my sister. I was put completely at ease as I explained exactly how I felt and was overjoyed when Mr Senapti agreed to help me.
I knew all the risks as I had done so much research and I also knew that despite having surgery; I would still need to do a large amount of the work myself in losing weight but this was important to me as I wanted to be in control. However, I hoped that this would be the tool to help me to get where I wanted to be.
I had the gastric band fitted on 21 October 2017 and have never looked back. I would be lying if I said it was easy as it wasnt. I had hit and miss days; learning what I could eat and what I couldnt and also learning that eating something on one day without any issues did not mean that the next time I ate that food that I would not feel unwell but it was learning to listen to my band and accepting it.
Having the support and guidance from the nurses at the Alexander Hospital and also seeing Mr Senapati helped me all the way. I had several fills and defills along the way but am glad to say that we seem to have found the right restraint for me and after 2 years; I have lost over 30 kilos and have dropped from a dress size of 28 to a size 14/16.
To say I feel amazing would probably sound like bragging but that is exactly how I feel. I have my life back and my band ensures that I dont over eat … in fact, I am still losing weight; although a lot slower now.
I could have done this alone; but I would still be on the same route as before … losing and gaining weight. My band has given me a different route to my weight loss and this time; my weight loss is for good.
Thank you so much to Mr Senapati and to Debbie and Helen from Alexander Hospital .. you have given me back my life and my husband now has a wife who loves herself as much as he loves her.